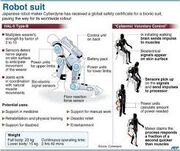 New Adjustments
Edit
Hello Ladies & Gentlemen after a few people giving advice on the capabilities on the armor I have adjusted it and fixed every issue they saw so after 12 adjustments and a few bandages later I give you Titan Mark VI.
Field Test
Edit
After 30 tests on 20 Titans I have concluded with one progressive conclusion: I will only produce 10 so no idiots can take my armor for their gain ( I wont say who ) and if I can ill be making a British Color and my Defender Color. And one final test was put in effect when I immersed myself in lava for 5 hours and never got touched inside Yes I said it real hot lava folks.
Company Policy
Edit
ALL SUITS ARE UNDER CONTRACT AND IF THE BUYER TAKES SAID SUIT WITHOUT SIGNATURE ON DOTTED LINE OR NOT PAID ON THAT DAY WILL BE ARRESTED ON SIGHT.